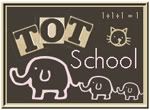 K is currently 38 months and J is 17 months.
We had fun this week doing lots of Valentine's Day related stuff.
I saw the idea on
Monkeyin' Around
to make valentines by painting heart shapes using cars, then using phrases like "You make my heart race" or "You're tire-iffic." I loved this idea, so K painted hearts to make Valentines for his grandparents and cousins.
J did a little bit of painting, too! This was his first time ever painting. It didn't keep his attention long (he didn't like getting paint on his hands) but he enjoyed it for a few minutes. :)
I cut the centers out of some of the hearts K had painted, put contact paper over them, and let him put tissue paper inside. Then we used these and some other hearts to make a cute Valentine garland.
Knowing of his superhero obsession, my mom recently bought K a Marvel Superheroes Color Wonder set. He loves it and spent lots of time painting and coloring his superheroes. And it really was mess free!
K is loving this
ABC floor puzzle
that he got for Christmas. I enjoyed helping him put it together and seeing how excited he got each time we finished it. I really like this brand, the pieces are super sturdy (which is what I need with 3 boys!)
I've been teaching J his body parts (eyes, nose, mouth, ears, hair, etc) and he is getting really good at saying them and pointing them out. Here he is showing me his tummy - which he says more like "mummy" but it's so cute! :)
Check out
1+1+1=1
to see what other tots have been up to!