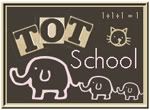 K is 38 months and J is 17 months
This week, pretty much everything we did was heart shaped (what can I say, I love Valentine's Day!). We finished making our
homemade valentines
and sent them off to cousins/grandparents.
I cut out some hearts from foam and wrote numbers on the front and the letters of K's name on the back. He could put them in order by number, then flip them over and they would spell his name! By doing this activity a few times, he totally mastered putting the letters of his name in the correct order. Yay for K!
I drew this quick little chart, and had K count out foam hearts and put the correct number of hearts in each column. He is getting so much better at counting.
The boys decorated long strips of easel paper using paint and heart shaped stamps (which I made by cutting heart shapes out of cheap sponges). I'm going to use this as wrapping paper for their Valentine surprises tomorrow.
K played a heart fishing game - pretty much
this
except heart shapes. I wrote letters on the back of each heart, so he'd catch a heart and then identify the letter on the back.
I made heart shaped ice paints for them to paint with - this fun idea came from
2 Teaching Mommies
.
K and J went to their first Valentine's Day party. Here they are sitting at the table getting ready to decorate some cookies (though all J did was eat the candies!)
K has developed a lot more interest in Legos lately, and several times this week got the Legos out by himself and started building (it's nice that we are finally at the stage where K being quiet does not necessarily mean he's doing something mischievous!)
J had fun putting stirring sticks into a soda bottle, then dumping them out ... then repeat. I love how the simplest things are so fun for him!
On Saturday, K and A helped their daddy fix a gate. They had to get all decked out in their Home Depot aprons and safety goggles. They looked so cute, and were so proud to be Daddy's helpers!
See what other tots are doing at
1+1+1=1
!