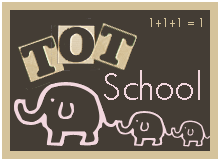 K is currently 34 months. J is 13 months.
This was a fun, laid back week that was all about Halloween!
We used some of
Lawteedah's
adorable Halloween tot pack. Here is K doing the puzzles.
We made an adorable craft that we found on
1+1+1=1
. Even Baby J got to participate!
The final products!
I spray painted some ping pong balls orange and drew faces on them with a sharpie. We played with them by rolling them to each other, tossing them into containers, etc. We also played a game where I would ask K, "Where's the pumpkin with square eyes?" or "Where's the pumpkin with a triangle nose?" and so on, and he would find them.
We carved our pumpkins.
We made more play doh "monsters." It never ceases to amaze me how long my boys can stay occupied with play doh! It is totally worth the mess! :)
We went to a church trunk-or-treat. Here are my 3 cute boys with my cute hubby! :)
Head over to 1+1+1=1 to see what other moms & tots are up to!