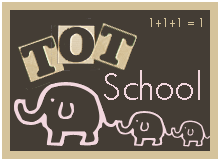 K is currently 35 months. J is 14 months.
My boys have developed a Batman obsession lately. A (my first grader) got to decorate a plain person cut-out for a Halloween project at school and chose to dress him as Batman. Of course, K had to have one too. So I cut out a figure for him, made a mask to the best of my (non-artistic) ability, and drew the Batman symbol on his chest. Then, I let K color him (as you can probably tell). He needed a cape, so we used felt and it's attached with velcro so K can remove it.
Here is K playing with his "Batman."
With my boys' new love of Batman, I was thrilled when I saw a Batman preschool pack on
1+1+1=1
. Perfect timing! K ordered the Batman figures from the pack by size (he's really good at this!).
We played "Find the Letter." Because K is still learning his letters, we drew magnetic letters out of a bag, I would ask him what it was (and tell him if he didn't know) and then K would find the same letter on the Batman page. One of Carisa's suggestions was to use a Batman toy and have your child put Batman on the letter you call out. We did this (although our Batman was a little big for the letters so he just "stomped" on them with one foot) and I think it made it a lot more enjoyable for K. We also used the pre-writing pages from the tot pack (these are always a hit with K) but I didn't get any pictures of that.
Favorite Toys of the Week:
I've had my eye on
this shape sorter toy
for a while, so when I came across it at Ross for half price I couldn't resist! It is much more challenging than regular shape sorters. There are two shapes for each color, and you have to open the little doors with a key to get the shapes out. It is awesome for a child K's age - he loves it!
Baby J has been loving his
Playskool Busy Ball Popper
(even though he tends to put much more than just balls in there!)
Baby J really enjoyed our Simple Fun activities this week, too, which you can read about
here
.
The hit of the week, for both boys, was when I transformed our outdoor kiddie pool into an indoor ball pit. Click
here
for my post about that.
Check out
1+1+1=1
for more tot school ideas!