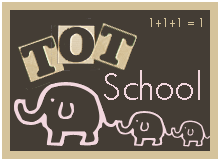 K is currently 33 months old. Our themes this week: Apples and Snakes. I know, strange combination, but sometimes you gotta go with the flow . . .
I finally made a felt board (has been on the to-do list for a while) and made an apple tree for it. We said the rhyme, "Ten red apples in the tree, one for you and one for me. Eight red apples in the tree, one for you and one for me . . . " and took the apples off the tree until they were all gone. This idea came from Making Learning Fun.
I stuck some of our apple post its to the wall, and K "picked" them and put them into his basket, counting as he went.
We played "Pin the apple on the basket." I saw this idea somewhere, but now I can't remember where!
Another idea from Making Learning Fun was making a play-doh mat with a tree, and then making apples out of play-doh to put on the tree. I made these "apples" to show K how to do it . . .
but he had way more fun squishing the apples all together. He wasn't too into the "making apples" idea, so it ended up just being play-doh free play.
I drew a couple of trees and gave K stickers to decorate them with, but he decided he wanted to draw his own tree. So I gave him some markers and let him go at it. I was pretty impressed with his tree! He put some apples and two little squirrels on it. He said the squirrels were him and his big brother. :)
He did this apple seed counting activity from Confessions of a Homeschooler. After he matched the numbers to the apples with the correct amount of seeds (with my help), he pointed to the numbers with my pointer and counted. Has anyone else noticed that everything is more fun for kids if you let them use a pointer? :)
This is when our theme went in a new direction. We discovered 2 dead snakes (don't worry, they were the harmless kind!) near our house within 24 hours. K was FASCINATED. He kept wanting to go back and see the snakes "one more time." I'm a big believer that kids learn much better when you follow their interests, so we ditched the apples and did some snake stuff.
We made an "S is for snake" craft. We read some snake books and looked at snake pictures on the internet (which Mommy didn't enjoy very much - the poisonous snakes freak me out!)
K's grandma and grandpa sent us a couple of wooden ready-to-paint snakes in the mail this week. I (and they) have no idea how they timed that so perfectly!
We went to the park one day, and K lined up these cones that we had brought for soccer and started counting them all on his own. I love when they do that kind of thing with no prodding.
Field trip! We took a field trip on Friday to a Health and Safety Faire put on by our county's Office of Education. It was great! The boys got to sit in a fire truck and a police car, take a train ride, make a craft, play at water tables, shop at a mock farmer's market, and received fireman hats and a bunch of other goodies. Fun and free is a great combination!
See what more moms & tots are doing at 1+1+1=1.