K is 33 months old and J is 12 months old.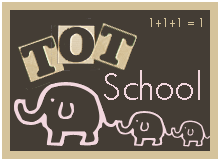 This week, we had a theme:
Apples
! We had tons of fun with this theme - so much actually that we weren't able to do everything I wanted to, so I think we'll keep this theme for at least another week. Here are some of the things we did:
K did a magnet page from Making Learning Fun. Then, he decided he wanted to take off the magnet page and make monsters on the cookie sheet with his magnets. This boy has an obsession with monsters, that will definitely be one of our themes in October!
He did these shape matching puzzles from Confessions of a Homeschooler. I put magnets on the back so they'd stick to the cookie sheet (he gets frustrated when they slide around). He enjoyed this much more when I made it into a game. I put 1/2 of all the apple halves in a basket for me and the other half in a basket for him. Then we would take turns picking out a half, looking at the shape, and saying, "Do you have a star?" (or whatever the shape was) then the other person would find the other half and we'd put the apple together. K LOVED this, and wanted to play it every day.
He put apples in order from biggest to smallest (this was also from Confessions of a Homeschooler). It was cute because he said the biggest apple was Daddy, the next was Mommy, etc., with the smallest being Baby J.
When he had enough of these activities, he would get silly and do things like this. :)
We apple & spoon races (kind of like egg and spoon races) using artificial apples. He picked one up from one basket and took it across the room to another basket. We did egg and spoon races back around Easter time, and it was amazing how much his balancing skills have improved since then!
He also transferred the same apples from one basket to another using tongs. Yes, he opens his mouth when he's concentrating

. :)
I found these apple shape post-it notes at Joann's. I wrote the numbers 1-10 on them, stuck them on our easel, and had him swat whatever number I called out with a fly swatter (a new, clean, never-been-used-on-flies fly swatter that I got from the Dollar Tree). Then we put the numbers in order.
We read Ten Apples Up on Top by Dr. Seuss, and he made his own "Ten Apples up on K" craft (see previous post for more activities to go along with this book).
Non Apple Themed stuff: he painted with cars and we made an "R is for road" craft.
After he finished painting, he said, "Let's have a car wash!" So I let him wash his cars in the sink with bubbles - this turned out to be the perfect way to clean up, and it added on another 10 minutes to the activity. :)
He continued his love of puzzles. I love this picture of him doing a puzzle in his "secret spot" behind the rocking chair in Baby J's room (he had to make sure J didn't get his puzzle pieces).
Baby J was LOVING his stacking rings this week, and got pretty good at them!
I also pulled out this old gumball machine toy that was A's, and Baby J really liked it (any toy that allows J to put objects into something else is a hit). I don't think they sell this exact toy anymore, but there is a very similar toy at Target called the B. Sugar Chute.
We got out our instruments and sang songs and made a lot of noise!
We had to take J to the doctor for his 1 year check-up, so K was in doctor mode. Here he is playing doctor with his beloved bear (he gave Mommy a check-up too). I just love this picture! Head over to 1+1+1=1 to see what others are doing!